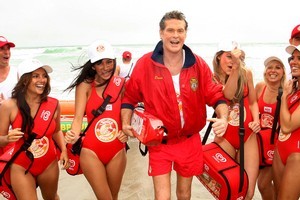 Former Baywatch star David Hasselhoff has made a heartfelt plea to his followers in the wake of the Rena disaster.
But expatriate New Zealand actor Russell Crowe probably needs to watch news from home more often.
Hasselhoff went to Twitter where he appealed for help to his followers on the social media website after seeing a news clip of New Zealand's worst environmental disaster.
"This was a beach I was on last Jan. and the KIWIS need our help Horrible and sad this keeps happening."
The former star of Knight Rider spoke to the Herald during an iceblock launch at Mt Maunganui earlier this year.
Hundreds showed up at the Mount to mob the Hoff in what he later said was the best welcome he had had anywhere.
Hasselhoff said that day that he enjoyed visiting New Zealand and said he could possibly return for a series of music concerts.
He earlier visited these shores in 1987 where he recorded his Lovin' Feelings album.
He said the album "completely tanked" selling less than 10 copies - of which he bought two.
But he didn't let the flop stop his music career, and his last big hit was the song Jump In My Car, which reached No 3 in the British charts in 2006.
But Crowe, who had 296,173 Twitter followers yesterday, was caught unawares as to what was happening off Tauranga's coast.
One of his followers asked: "Hi do you heard what happens near the New Zealand coast ? a ecologic disaster with a black tide I'm very angry :'-("
To which Crowe replied: "what happened?"