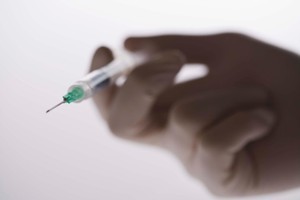 Northland has had seven recorded cases of meningococcal disease this year. Photo / Thinkstock
A 16-month-old Whangarei child has been admitted to Whangarei Hospital with suspected meningococcal disease.
The case follows that of a 2-year-old Kaipara girl admitted to Whangarei Hospital on Sunday and the admission of a 5-year-old Whangarei girl two days before that.
Both of those cases have been confirmed as meningococcal disease but tests have not yet identified which meningococcal group infection at this stage.
Dr Jonathan Jarman, Northland DHB medical officer of health, said if the latest case was confirmed as meningococcal disease, it would be the 12th case in Northland since July.
Northland DHB's public health unit had identified close contacts of the children but it again appeared there were no obvious links between this and previous meningococcal cases
Northland is experiencing an outbreak of Group C meningococcal disease. Since July there have been seven cases of meningococcal disease caused by Group C bacteria in Northland, including three deaths.
A one-off meningococcal C immunisation programme is running until December. Northland children and youth aged between 12 months and 20 years can get free vaccinations.
More than 4000 students have been vaccinated against meningococcal C disease in high schools in Northland in the last two weeks.
- APNZ