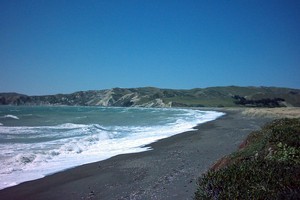 Amputee swimmer Salvatore Cimmino is wrapped in blankets and sleeping after successfully swimming 26 kilometres across Cook Strait today.
The 47-year-old is the first amputee to swim the Strait and the first person to complete the crossing in October.
Mr Cimmino, who had his right leg amputated at the age of 15 due to cancer, said the day's efforts left him "exhausted but very, very happy''.
"We have built another bridge and are now closer to a world without barriers. This is about disability awareness and people should know disability is no barrier to great achievement, as it is no barrier to everyday life.''
He finished the swim at Perano Head at 5:05pm, after leaving the Makara coast eight hours and 18 minutes earlier.
New Zealand distance swimming legend Philip Rush was with Mr Cimmino throughout the race, and said his companion did well in challenging conditions.
"He's pretty tired, pretty buggered. We're just cruising back now and are trying to warm him up. We've got him on the floor, wrapped in blankets and he's sleeping. Trying to get back to normal.''
He said the water temperature was about 12 degrees and the air temperature averaged between 12 and 14 degrees.
"The air and water temperature are the reasons why this hasn't been done in October before. It was very cold out there. This is a hard swim at the best of times and Salvatore has put in a truly champion effort.''
He said only 80 people had completed the swim across the Strait before.
"I would think he'll be sleeping [tonight to celebrate].''
Because Salvatore made the crossing in a wetsuit, it will not be recorded as an official Cook Strait record.
The Cook Strait crossing is part of Salvatore's Swim the Seas of the Globe campaign to promote disability awareness. As part of this project, Salvatore has already completed swims in Israel, Italy, Mexico and Canada.
Good friend, former All Black and Italy rugby coach John Kirwan, said he was proud of Cimmino's achievement.
"He was so determined to conquer the Cook Strait _ you only have to meet him to understand what he is doing this for.''