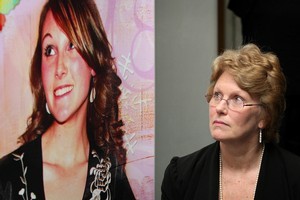 Lesley Elliott (R), mother of murdered 22-year-old Sophie Elliott, sits beside a poster that carries an image of her daughter. Photo / Sarah Ivey
The mother of murdered university student Sophie Elliott has been named Next magazine's Woman of the Year.
Lesley Elliott formed the Sophie Elliott Foundation, after her daughter was stabbed to death in 2008.
She spends much of her time in schools, educating young women about domestic violence.