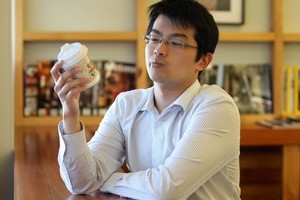 A Kingsland cafe has been almost doubling the price for a coffee on game nights at nearby Eden Park.
Rugby fan Chris Clay was stunned to find the price of a latte at Bouchon was $8 before the Samoa-Fiji match. "I'm disappointed. A lot of people have done something to make the most of the event without ripping people off."
Food prices at Bouchon were also inflated for game days, which Clay said was not a good look. "The last thing we really need is people going home telling people how expensive it is."
"A cup of nothing," is how one of New Zealand's top baristas described the $8 game-day coffee. Max Chao, winner of the Huhtamaki New Zealand Barista Championship this year, said the coffee would be a disappointment, even at $5. "The coffee was too coarse. I couldn't really feel the coffee."
Bouchon owner Vindod Dodhy said he was only trying to make up for World Cup costs. "The higher price on game-day is because I have to put on eight staff instead of two. If people think it is too high I can't make them buy it. They can go somewhere else."