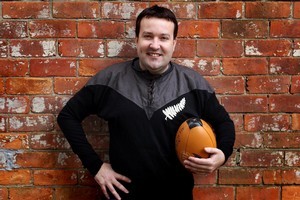 Simon Anderson loves a good yarn. So much so, the diehard rugby fan paid $1500 for a handwoven wool replica of the 1905 Originals All Black jersey.
Anderson, 40, will wear the jersey to the Rugby World Cup final, where he hopes the All Blacks will weave their own magic.
"It's an opportunity to possess something quite unique," said Anderson, an Auckland IT manager.
"I firmly believe that we have a stronger connection with the jersey than other countries. We don't really care who manufactures it.
"It's nice to have something that is so historically significant - 160 years ago there were a number of guys departing on a two-year tour. It's quite nice to think that there is a little bit of their history present at the final."
The jersey was one of 11 made by Massey University textile expert Tina Downes to raise money for the New Zealand Rugby Museum.
She painstakingly researched century-old knitting techniques and used soft, fine two-ply wool.
She said All Blacks manufacturer adidas could learn something from the older techniques.
"I think we should go back to wool for our jerseys," Downes said.
"It breathes, it moves, it stretches, it's the most fantastic fibre, particularly for sportswear.
"It takes away moisture, it keeps you warm."
The jersey was a labour of love for Downes - it took nine hours just to embroider the silver fern on to each jersey because of the intricate sewing techniques required.
TOUR FACTS
* The 1905 NZ touring team to Britain and France, "The Originals", became known as the "All Blacks".
* The team were the first New Zealand touring side to wear the black jersey with silver fern. The jerseys for the 1905 touring team were made of linen and lambswool with a lace-up collar.
* Only six of the jerseys made in 1905 are believed to still exist.