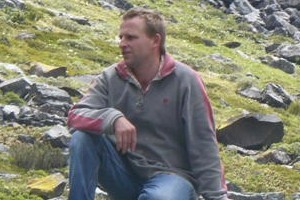 A man who tried to cling on to his friend before he fell from a waterfall has spoken about his desperate attempts to save him.
The body of Ian Oliver Randall, 39, was recovered from the water at Maruia Falls a week ago yesterday.
Well driller Daniel Smith, 28, was with of a group of 34 from Clemence Drilling travelling from Christchurch to Nelson to watch the Australia v Russia Rugby World Cup game.
They stopped at Maruia Falls for a barbecue south of Murchison, about 5pm on the Friday.
Smith said he went over a barrier to have a closer look at the falls.
"I was standing a good distance away from the water but Ian came shooting past me and he hit some slippery rocks. I saw him do a big back flip into the air and fall into the water. I ran for him and grabbed on to him but I couldn't hold on any more.
"The force of the water just pulled him from me.
"He shot around and grabbed on to another set of rocks at the top of the waterfall. I called for Paula, another workmate, to come help. We both had a grip of him but we couldn't hold on," he said.
Randall fell 12m to the bottom of the waterfall.
His colleagues ran to the base of the falls but Randall had disappeared.
"We stayed there for about six hours to help the police and search and rescue teams. It was awful," said Smith.
Randall came from England but had lived in New Zealand for four years with his wife Susie and their two young children, Leonie and Oscar.
His brother Barry told the Herald on Sunday from the United Kingdom that Ian had many friends.
Randall's funeral will be held on Friday at 10.30am in the Rangiora Chapel.