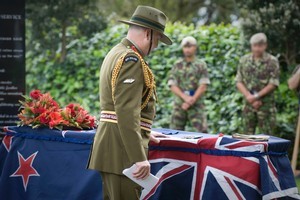 Hundreds of mourners gathered for an open-air ceremony to farewell a determined and humorous SAS trooper killed in action in Afghanistan.
The service held at the Papakura Military Camp in Auckland this afternoon was packed with more than 300 family, friends and servicemen to honour Lance Corporal Leon Smith, the SAS trooper killed in a firefight near Kabul last week.
The 33-year-old, formerly of Wellington, was shot in the head on September 28 during an operation in Wardak province, southwest of Kabul, at a compound suspected of housing Taleban bomb-makers preparing for an attack in the capital.
He had been a member of the SAS for three years and was promoted in January this year.
The hour-long service began at 2pm under a marquee
Civilians dressed in varying muted colours sat on seats lined on the grass, while lines of army servicemen stood at the boundaries of the tent and along the surrounding banks.
The open-air service was significant of a man who "loved the open space, loved life, and lived it to the full", said commanding officer Colonel Chris Parsons.
The coffin was carried in by six members of the SAS and was greeted by a strong SAS haka from servicemen, with two groups of servicemen slowly closing around the casket as it moved along the final 3m of the aisle.
The flag-covered casket was placed between memorial plaques honouring servicemen killed in the line of duty and a special Air Service ode.
After an initial welcome and opening prayer by the chaplain, Prime Minister John Key started with a tribute to Lance Corporal Smith.
"Like you, I stand here today with a heavy heart...He was brace, he was talented and he served New Zealand with pride. He was one of our elite soldiers.
"Day after day they face extremely volatile conditions which put their lives at risk. But despite this, they carry on playing a critical role to help free the world from terrorism."
Chief of Defence Force Lieutenant Daniel Rhys Jones followed with a tribute to the "self-made man", telling an anecdote of how a determined Leon Smith trained with bricks and ran his postie route around Wellington to increase strength and fitness.
Commanding officer Colonel Chris Parsons spoke of the determined man who made his way to his comrade Corporal Doug Grant, who was shot and killed in Kabul in August.
He spoke of how Lance Corporal Smith braved gunfire and ran, "quick as a cat" to be reunited with his shot comrade.
The Smith family then spoke, starting with his mother Mary, who read a poem about her son joining the elite service.
"And even though you are up there [heaven], we will hold you near...You climbed that ladder and you gave it your best shot."
Leon's brother Sol Smith then stood to speak of an email exchange he'd recently had with his brother, in which Leon said:
"It's busy, but we have kinda done some good s***, that has made the world notice, especially in military and political circles."
Leon's second brother Darryl Smith followed with a short speech, before an SAS prayer and the hymn How Great Thou Art was sung.
As the ceremony drew to a close, Brothers in Arms by Dire Straits was played over the loudspeakers.
Funeral attendees slowly filed out of the open air marquee as gentle drops of rain fell, before heading inside a military building for the wake.
A private family ceremony will be held tomorrow.
- APNZ