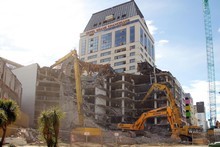 Emergency services have joined forces to rubbish claims that people in authority looted red zones in quake-ravaged Christchurch.
Canterbury University criminologist Dr Greg Newbold said yesterday there was anecdotal evidence that workers allowed within the red zone looted damaged properties in the aftermath of the disaster.
He said there were major thefts within the zone and large amounts of money and property had been taken by overseas rescue workers and firefighters who were called in to help with the disaster.
The Fire Service, Police and St Johns have all rubbished the remarks and today Dr Newbold admitted it was just a "loose'' comment he made with no evidence to back it up.
Christchurch city area commander Derek Erasmus said the police force worked on fact, not innuendo or rumour.
"We have no information or any report or any suspicion of any emergency services worker in the red zone being involved in any criminal activity. We have no current investigations, we have no allegations, and we haven't heard a sniff of anything like that being the case.
"I encourage people who have any information about that to come to us with it, and I encourage Mr Newbold to do it.''
He confirmed there had been several thefts and burglaries within the red zone and said close to 100 people had been temporarily locked up for illegally being in the area at night, but only six had been arrested for stealing within the cordoned area.
He said the six people facing burglary and theft charges were still going through the Christchurch court system.
Fire Service chief executive Mike Hall said it was outrageous for an allegation to be made that firefighters and international urban search and rescue team members could have been responsible for some of the thefts within the Christchurch red zone.
"Greg Newbold has not backed up his allegation with any information or evidence. University academics generally take a much more responsible and careful approach to their theories and base them on evidence, not supposition.''
Both police and the fire services have said they will not hold any form of investigation into the claims.
St Johns regional operations manager Chris Haines said the allegations were offensive and insulting to the efforts of staff and all emergency service workers.
However, the Fire Fighters union was taking the claims seriously and would discuss at a national committee meeting tomorrow whether an investigation was needed, president Steve Warner said.
Dr Newbold said today he didn't want to talk about the comments, and admitted he could not factually back up his remarks.
"It was just a loose comment I made. I've got no evidence of it but everyone knows it took place, but I've got no evidence of it.''
- APNZ
By Hayley Hannan

Email

Hayley