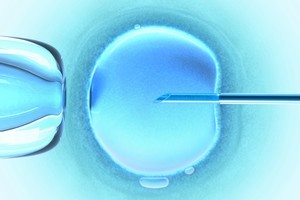 Nearly 50 Kiwi couples have taken up a fertility programme offering most of their money back if they don't have a baby.
Since its launch in 2009 by Fertility Associates, 14 couples have successfully had babies through the Fertility Cover scheme, nine were pregnant and 20 were undergoing treatment.
Another six had been unsuccessful and received 70 per cent of their money back under the scheme.
The programme meant eligible patients undergoing in-vitro fertilisation (IVF) were not out of pocket if treatment was unsuccessful, said Fertility Associates clinical director Dr Richard Fisher.
"It gives people some comfort that if it doesn't work they'll get a significant part of their money back," he said.
Women under 39 who met the criteria made an upfront payment starting from $25,000, depending on their age, for a three-cycle package.
The use of frozen embryos was also included in the cost, giving couples the chance of having more than one child through the programme.
If they did not have a baby after the three cycles, patients received a 70 per cent refund.
A single cycle of IVF can cost $10,000 to $15,000.
While the programme took away some of the financial strain on couples, they needed to be emotionally prepared for the treatment, said Dr Fisher.
"The expectation is that they're going to conceive and if they don't it's really difficult."
Fertility Associates' staff and counsellors supported couples through the process.
Infertility affects about one in five New Zealand couples - the figure has steadily increased as women wait until later in life to start their families.
FERTILITY PROGRAMME DELIVERS FOR HARRISON'S MUM
Fifteen-month-old Harrison Swallow was six years in the making.
His mum, Lisa Paraku, describes her experience trying to have a baby as "quite a journey".
The 36-year-old and her husband, Steve Swallow, started trying to conceive in 2004.
After a couple of years, she fell pregnant but the baby was stillborn. She then had two miscarriages.
She was investigating IVF through Fertility Associates in 2009 when she found out about their Fertility Cover programme.
"With IVF, one of the stresses is 'is it going to work?' and 'how are we going to pay'? The programme, for me and my husband, eliminated the stress of having to be successful on the first go."
Their first cycle was successful. "It was just wonderful, after six years and three losses," Paraku says.
She says the support she received throughout the programme was a huge help.
"We were counselled at the start, had full access to the nursing staff and the scientists and had access to a raft of information that I needed at the time."
The couple have frozen embryos stored in case they want to have another baby.
- Susan Edmunds