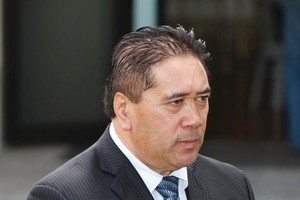 A Ngapuhi body claims it has secured a broad mandate to begin negotiations for a Treaty settlement, but there are fears that disunity and challenges from an opposing group will force a further wait.
Sonny Tau, the interim chairman of Te Roopu o Tuhoronuku, yesterday released the results of a vote by Ngapuhi members in which 76 per cent of those who took part opted for settlement negotiations to begin.
Tuhoronuku was set up by the tribe's runanga (council) to seek support for it to lead negotiations with the Crown.
However, another grouping of hapu - Te Kotahitanga o Ngapuhi - wants negotiations delayed until the Waitangi Tribunal has finished considering their grievances.
The heads of the two factions - Mr Tau for Tuhoronuku and Pita Tipene for Te Kotahitanga - will meet Treaty Negotiations Minister Chris Finlayson today to discuss the issue.
Mr Tau said the vote left the Government with no choice but to accept there was a mandate for negotiations.
Ngapuhi has about 123,000 members - and of the 30,000 who got voting papers, 23 per cent completed them. Mr Tau said it was a high turnout compared to other iwi. It showed most of Ngapuhi wanted to start to reap the same benefits other large iwi such as Tainui and Ngai Tahu had achieved.
Labour list MP Kelvin Davis, of Ngati Hine, questioned whether it was enough to claim a mandate.
"I personally want a rapid settlement but one with a decent mandate, and I'm not sure that is a decent enough mandate."
He said although 76 per cent was high, many iwi members had not voted. He had not voted and was reluctant to take sides.
"But I want a unified settlement. I can't see that happening and there will be more trouble before it smooths out. So I don't think it's the end of the matter and that's a bit of a shame really."
Mr Davis said waiting for too long would devalue the worth of any settlement and result in missed opportunities.
"However, if we do settle rapidly and there is all this infighting, that putea [pool of money] will be blown anyway. If we're going to tear ourselves apart, is it worth it?"
Tuhoronuku - which includes prominent Maori rights activist Titewhai Harawira - has previously called for the opposing group not to put their own interests ahead of the wider iwi.
It ran a national advertising campaign - including in newspapers and on prime-time television - to encourage people to vote.
However, Mana Party MP Hone Harawira, Mrs Harawira's son, has voiced some concern about the settlement going ahead.
He would not comment yesterday, saying he had not yet digested Tuhoronuku's statement.