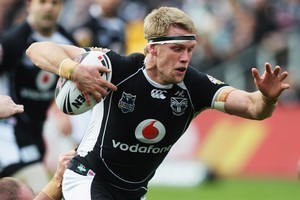 Warriors player Micheal Luck is a proud new dad and says being a father beats rugby league hands down.
The 29-year-old and wife ToniLee welcomed their first child, Murphy John Luck, just over a week ago.
And the star player, who will be playing in this weekend's big NRL Grand Final, says there is nothing that beats being a father - not even the game he loves.
"You don't realise how much it means having a baby until you get your own," he told Australian newspaper the Townsville Bulletin. "This will always top rugby league."
Baby Murphy was born at Auckland City Hospital on September 13. He weighed 3.8kg.
His parents met as teenagers in Australia and now live in the central Auckland suburb of Kingsland, but say they hope to head back to the place they call home, North Queensland, in years to come.
"We have loved this city, but we hope to eventually come back to Townsville, maybe in a couple of years," Luck told the Bulletin.
The family will fly across the Tasman this weekend for the big final in Sydney between the Vodafone Warriors and the Manly Sea Eagles.
At the family home yesterday, Luck told the Herald that they had organised for the whole family to fly over, following the Warriors' win over the Storm in Melbourne on Saturday night.
Luck said reports suggesting that Prime Minister John Key had had a hand in helping to fast-track a passport for their newborn son were incorrect.
"It's not right," he said. "We've got the passport and we did the passport ourselves."
- staff reporter