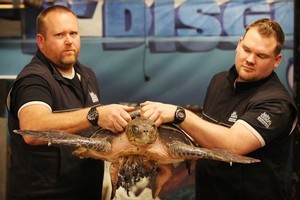 A rare, long-distance swimming turtle has been found on a South Auckland beach - and has a slim chance of survival, says a marine scientist.
The olive ridley turtle was found in a sickly condition by a resident on Karioitahi Beach, west of Waiuku, yesterday morning.
The 1m, 25kg male was taken to Kelly Tarlton's aquarium for rehab.
But even if it survives its ordeal, the turtle faces a long journey if it is to reach its breeding grounds of Latin America or India.
Marine scientist Dan Godoy, a PhD candidate at Massey University, said it might not survive.
"If it's stranded on the beach then ... it's quite sick. Olive ridleys don't tend to do well in rehab ... but if they survive the first couple of days, then they can make a really good recovery."
The turtle had barnacles on its shell, which meant it had been floating for a long period, unable to dive for food.
This was usually a symptom of an illness caused by ingestion of marine debris such as plastic, which short-sighted turtles struggled to distinguish from their prey.
While the turtle was likely to have swum a long way Mr Godoy said its rehabilitation would not be as complex or costly as that for Happy Feet, the emperor penguin released in the Southern Ocean two weeks ago. Rehabilitated turtles used to be put back in the water at the Kermadec Islands, but he said they could easily be set free in Northland, the west coast of the North Island or at a marine reserve such as Poor Knights.
The olive ridley species was listed as vulnerable, and Mr Godoy had only seen three in New Zealand waters in the last decade.
"They will range huge distances and don't really occur close to the coast. They're big migrators, and some people call them flagship species, because by protecting them and the habitat they're in, we also protect a myriad of other species," said Mr Godoy.
The olive ridleys were most well known for synchronised mass nesting, or arribadas, when hundreds of thousands of females come ashore at once to lay eggs.
More sea turtles have washed ashore than usual this year, a fact Mr Godoy put down to better reporting of strandings but also to spring storms and warmer water. A green sea turtle was found stranded in Kaitaia yesterday, and has been flown by the Department of Conservation to the aquarium.