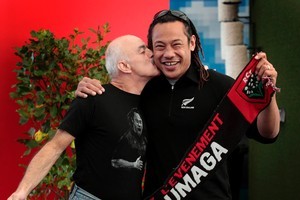 When Toulon fanatic Issenjou Herve met Tana Umaga yesterday he reached up and gave the former All Black captain a French kiss.
Earlier in the week, the Herald snapped 63-year-old Mr Herve at the Tricolors training dancing with a scarf with Umaga's name on it.
Without a scrap of English Mr Herve managed to translate - by way of Toulon chants, much gesturing, and general exuberance - his ultimate man-love for the dreadlocked centre who arrived to play and coach in France in 2007.
Through an interpreter, a young friend he'd met that day, he said he loved his side but meeting Umaga in New Zealand was his dream.
Umaga, who is promoting Kiwi cuisine at Taste at the Cloud, contacted the Herald to say he wouldn't mind meeting the outgoing former postie.
And so they met. And the cheek continued.
"He's just asked me for a ticket to the final," Umaga grinned, "I don't even have one myself."
The pair talked tactics in French - both agreed France were in for a hiding tonight against the All Blacks at Eden Park and Mr Herve said he thought his team were playing a B side, a "disrespectful" move towards New Zealand.
Umaga reckoned Mr Herve was a typical example of the passion Toulon people have for rugby.
"You go to the small towns and watch rugby, they sing, they're right there with the players. They feel the losses, all the highs and the lows.
"A lot of people there say some go to church for their religion, others go to Stade Mayol."
Mr Herve's enthusiasm was what the Rugby World Cup was all about, Umaga said. "The amazing thing is this gentleman, he's come all this way, can't speak English and he's just done it off his own back.
"That's the great thing about this tournament and rugby, it brings people together. They might not know each other but by the end of it ... they might be lifelong friends."
After the meeting Mr Herve told the Herald through an interpreter his heart was thudding.
"There are no words to say how happy I am. I'll never forget this."