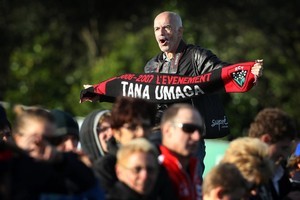 Frenchman Issenjou Herve has his priorities sorted - Tana Umaga first, Les Bleus second.
The tourist was a popular feature of his nation's public training run at Onewa Domain yesterday afternoon, chanting the former All Black captain's name while waiting.
When he got a glimpse of another countryman's Toulon leanings, he rushed over and in French, with much gesturing, told him he'd forgotten his own rugby shirt for his downunder Rugby World Cup run.
Mr Herve danced little jigs and waved around a scarf embroidered with Umaga's name.
Mr Herve told the Herald through an interpreter he loved Les Bleus, but had a little wish that while here he'd bump into the player who'd taken Toulon rugby and turned it on his head.
"I want to meet Tana Umaga - I'd be so happy. He took Toulon to new heights. That would top off the trip."
Meeting Sonny Bill Williams would also be a treat, he reckoned.
He was one of a couple of hundred mainly French and Kiwi fans who waved the tricolore and were in good humour despite the bitingly cold wind.
Bordeaux's Bono Caubert, 24, mixed his love for rugby with a little bit of pain, getting a tamoko on his right lower leg in Rotorua yesterday.
The seven-hour ink session "was painful, but I love it".
Angus Gray, 5, was dressed the part for the training session. His black get-up included a number two on his back and headgear, but his favourite player failed to make the squad.
Angus' father, Callum Gray, said: "[Sebastian] Chabal's his favourite player. He's been asking about him, I had to tell him he wasn't here."
His skinny son, who has just finished his first year of ripper rugby, probably wouldn't fill out to be a hooker. But his kicks had improved, he joked, because of his excited running around for the World Cup.
Gilbert Geney and Daniel Rossi flew into Auckland from Hanoi for the All Blacks-France test this weekend.
While Kiwi supporters might be wondering whether the Gallic team would be the All Blacks' undoing - again - Mr Rossi said French people were also anxious.
"Other teams start with tactics, not the French. We don't play with our heads. It's always so special when we play each other. This is the most important game for us - even though it's just a pool game - it's the All Blacks. We can't wait."