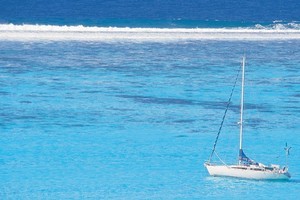 Fears are growing for a New Zealand yachtsman missing off the coast of Bermuda as authorities try to locate the vessel using satellite images.
An international search was launched after Francis Cooper, 61, and 69-year-old Norwegian skipper Arvid Moe failed to arrive in Ireland as planned on September 15.
It is understood Mr Cooper lives in St Thomas in the US Virgin Islands, and owns several vessels there.
He was travelling on Mr Moe's 10m sloop Golden Eagle, which is registered in Bergen, Norway.
The pair left St George in Bermuda on August 21 bound for Crookhaven in County Cork, but there has been no sign of the vessel.
The men are understood to have only about four days' supplies left.
Bermuda coastguard Denis Rowe told the Weekend Herald that Mr Moe's family contacted the coastguard in Norway when he failed to make contact as planned.
Authorities in Norway then contacted coastguards in Ireland and Bermuda, who started scouring the ocean for the missing sloop.
"Search and rescue authorities in Bermuda, Azores, Ireland and the United Kingdom are carrying out searches of local ports and broadcasting to transatlantic shipping and aircraft in the hope that someone may sight the overdue sailing vessel."
Mr Rowe said the Golden Eagle was carrying a four-person liferaft and a 406MHz emergency position-indicating radio beacon, which when activated alerts search and rescue authorities via satellite to its position.
Irish Coastguard officer Pat Dunne said yesterday he was hoping satellite imagery would help locate the sloop.
"We're hoping to get satellite photographs tomorrow of the area, just to see if there's anything coming up on that as well. It will pick up everything," he said.
"I think the last contact, they sent a text message about 12 hours into the journey ... there's been nothing heard since."
The pair were sailing north of the Bermuda Triangle - a region in the western part of the North Atlantic Ocean where a number of aircraft and boats have disappeared in mysterious circumstances.
Can you help?
Do you know missing sailor Francis Cooper? Email: newsdesk@nzherald.co.nz
- Additional reporting APNZ