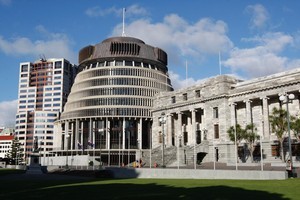 A South Auckland teenager has appeared in court accused of posting a video on YouTube which claimed explosives were hidden in Government buildings.
The 18-year-old secondary school student allegedly intended to cause significant disruption to the Government by suggesting there would be explosions in municipal buildings, court documents show.
The video, which was posted onto YouTube on September 6, also said Government and media websites would be hacked.
He is facing one charge of threatening to harm people or property.
The threats were allegedly part of a protest against the new Copyright (Infringing File Sharing) Amendment Act that came into effect earlier this month, police said.
He was granted interim name suppression when he appeared in appeared in Manukau District Court today after duty solicitor Nicole Smith said the accused's extended family had not been told of the allegations.
The family is Muslim and publication of his name would cause them extreme emarrasment, she said.
Judge Geoffrey Ellis said he would need "very good grounds'' for the interim order to be extended when the teenager reappears in court on October 12.
Ms Smith also asked that his bail conditions be changed to allow him limited internet access so he could complete online school assessments, however, Judge Geoffrey rejected this because there was no evidence that he would be properly supervised.
Acting Detective Inspector Pete Jones of the Counties Manukau CIB said police took such threats very seriously.
Multiple areas of the police force worked together closely on the investigation, he said.
"Counties Manukau CIB and Wellington District were able to draw on the expertise of the National Cyber Crime Centre (NC3) and the Electronic Crime Laboratory to help us locate this individual.''
He said the investigation showed police could trace individuals who made serious threats on the internet.
- APNZ