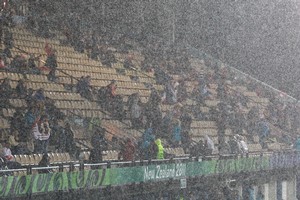 Unsettled spring conditions will miss Rugby World Cup games this week but New Zealand's key match against France could be dogged by rain.
The thunderstorms which struck northern parts of New Zealand yesterday were expected to have moved away from the country by today, leaving most of the North Island with fine weather.
MetService weather ambassador Bob McDavitt said only Gisborne would still be affected today by a deep low, which brought heavy rain and lightning to Northland and north of Auckland.
"It's going cats and dogs over Northland at present, but it looks as though the rugby games are avoiding the bad weather."
Conditions would be mostly clear with light winds for Nelson's first match of the World Cup tonight, when Italy play Russia. The sold-out match in Whangarei between Tonga and Japan tomorrow should also be played in settled conditions.
But changeable, wet weather was expected to return again on late Friday or Saturday.
While the Australia-USA match in Wellington on Friday is forecast to have clear skies and a light breeze, showers are likely to affect the All Blacks' most important game of the pool round.
Mr McDavitt said: "There is a question mark on the weekend weather, with a few showers around Eden Park on Saturday."
MetService predicted a temperature of 13C for the Auckland match, with almost no wind.
The outlook
Today
* Italy v Russia, Nelson, 7.30pm. 12C, fine with light winds.
Tomorrow:
* Tonga v Japan, Whangarei, 7.30pm. 13C, fine with breezes.
Thursday
* South Africa v Namibia, Albany, 8pm. 13C, cloudy spells and light winds.
Friday
* Australia v USA, Wellington, 8.30pm. 10-11C, mostly clear with some breeze.
Saturday
* England v Romania, Dunedin, 6pm. 12C, cloudy with a few showers.
* New Zealand v France, Auckland, 8.30pm. 13C, some showers, no wind.