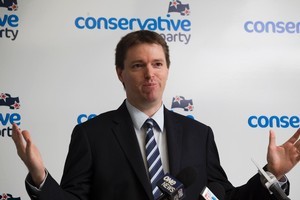 Former Auckland mayoral candidate Colin Craig will not go head-to-head with John Banks at the election, but will instead contest the Rodney electorate as leader of the new Conservative Party.
The announcement comes after speculation Mr Craig would contest the Epsom electorate, which would have pitted him against former mayoral race rival Mr Banks, who is standing in the electorate for the Act Party.
Mr Craig said he was attracted to the challenge of taking on Mr Banks but had "followed his heart" to stand in Rodney.
"I've lived in Rodney, and my business involvement here has spanned more than 20 years. Many of my family live here, and I'm passionate about getting things moving for everyone in the region," he said.
Mr Craig would campaign on action on the Penlink road between the Whangaparaoa Peninsula and central Auckland, and delivering two integrated family health centres to the district.
He said polling showed 47 percent of people would vote for him, compared with 36.3 percent for the National candidate, Rodney electorate MP and Speaker Lockwood Smith.
Mr Craig's father Ross Craig, a Rodney District councillor until the council was replaced by the Auckland Super City, said his son really understood the areas issues and had the right skills to fix them.
"It's great to be back on the campaign trial, this time helping my son," he said.
- APNZ
- APNZ