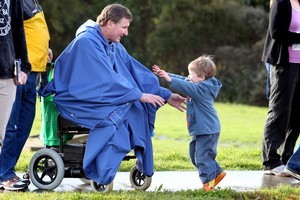 Onehunga blast victim Ian Winson shed tears yesterday as he spoke of his passion for running.
Speaking for the first time since the fatal June explosion, the double-amputee wished he could have joined in a Waitakere Ranges event he founded seven years ago.
"I wanted to be with them but I am with them, with everyone of them," he said from the start of the Lydiard Legend Marathon, which follows the route on which coach Arthur Lydiard trained his runners.
"Exercise is something I have a deep passion for. If I can get just two or three people off the couch to exercise, I'm winning."
The 47-year-old network engineer was seriously injured in the explosion which killed a Watercare colleague, Philomen Gulland, on June 4.
Winson has undergone hours of surgery to treat injuries to his hands and amputations above his knees.
Despite the trauma and losing his ability to run, Winson maintained a positive outlook. He said he looked forward to returning to work in coming months once he was emotionally prepared.
"I believe the event that happened was just bad timing. I don't believe it's one person's fault.
"Life throws you curve balls all the time. It's how you deal with them. Sure, I've been angry but there's always somebody who's worse off than me. I've got a lot to be grateful for."
He said that included his sons Joshua, 7, and Ethan, 2, and his "beautiful" wife, Katherine.
"Ethan is going to grow up knowing me like this," he told the Herald on Sunday, looking down at his stumps.
"Whereas Josh will remember the times we mucked around on the beach and played cricket together. But we've got friends, someone else will do those things with him now."
Winson is due to be fitted with prosthetic legs at the end of the month.
"You guys are going to have to be here next year because next year I'll be walking," he told reporters yesterday.