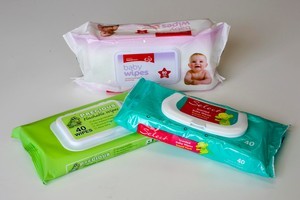 The importer of Silk brand baby wipes has asked supermarkets to withdraw the products so the name of a restricted chemical can be removed from its list of ingredients.
Global Products said today its wipes did not contain the restricted preservative iodopropynyl butylcarbamate (IPBC), even though the packaging suggested they did.
Progressive Enterprises _ owner of the Countdown, Woolworths and Foodtown supermarkets - yesterday pulled several brands of wipes for babies or toddlers after the Herald inquired about their containing IPBC.
The brands withdrawn included Woolworths Homebrand, Select Scented Baby Wipes and Precious Flushable Wipes.
Author Wendyl Nissen has raised concerns in her latest book about IPBC and other chemicals in baby cosmetics.
The Ministry of Health says baby wipes containing IPBC "may pose a public health risk
because of their potential sensitising and allergenic effects''.
Researchers had found that use of the preservative in cosmetics could cause contact sensitisation and allergic contact dermatitis, a skin condition.
The Environmental Protection Authority said New Zealand cosmetic standards listed IPBC as not to be used in preparations for children under 3, except below certain levels in bath products, shower gels and shampoo.
"As baby wipes do not meet this exception, IPBC must not be used in them.''
The ingredients list on Silk Quality Wipes indicates they contain iodopropynyl butylcarbanate, but a toxicologist told the Herald he was unaware of that chemical and it was probably a mis-spelling of iodopropynyl butylcarbamate (IPBC).
Chris Potter, a director of Silk importer Global Products, said today: "Silk baby wipes do not contain IPBC.
"The packaging incorrectly states that it does and [we] are doing everything [we] can to quickly re-label any packs still in circulation.
"Silk stopped manufacturing with IPBC in March and were working through the last of their packaging.''
Mr Potter said he had asked Progressive and rival supermarket group Foodstuffs - which includes Pak'nSave and New World - to withdraw Silk until the re-labelling could be completed.
He said Progressive had agreed to withdraw Silk pending the relabelling and he was still working with Foodstuffs on the issue.
Foodstuffs Auckland told the Herald yesterday, "Any products which do not comply with legal requirements will be immediately recalled and withdrawn from sale''.
Both supermarket groups offered refunds on withdrawn products.
Both also sell other wipes that do not contain IPBC.