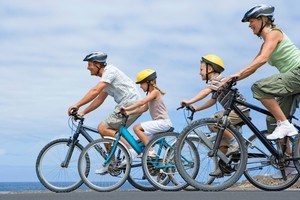 In a bid to promote cycling, Auckland Transport has issued a cycle map of the central city.
The map covers Waiheke Island, Avondale, Ellerslie, Onehunga and Mission Bay as well as central Auckland, and includes improvements suggested by cyclists, cycling groups and walkers.
Auckland Transport said the map was brighter and easier to read than the previous one.
It includes route descriptions and colour-coding for dedicated and shared cycle lanes.
The map also includes the locations of cycle lockers and cycle shops.
"One of our aims is to foster a cycling culture in Auckland by making cycling more attractive and safe," said Auckland Transport community transport manager Matthew Rednall.
"The highest number of cyclists in the region is in the central area, and ...
cycling is increasing where the network is continuous and connected."
The map also displays new cycles lanes such as those along Ian McKinnon Drive, Wellesley St and in Wynyard Quarter.
"By showing the location and types of cycle lanes, bike parking and off-road shared paths, the map will help people plan safe cycling trips to work, local attractions, parks and rides around Waiheke Island," Mr Rednall said.
The map can be used by locals and visitors with any level of cycling ability who want to explore the city of Auckland.
As well, a series of cycle maps is to be produced for the central, northern, southern, eastern and western areas of Auckland.
How to get a copy:
* Pick one up at any bike shop or at Auckland libraries.
* Phone Auckland Transport on (09) 355 3553 to request a copy be sent out in the mail.
* Request a copy of the map from Auckland Transport's website at www.aucklandtransport.govt.nz
What the cycle map includes:
* Cycle lanes on Wellesley St and Grafton Rd.
* Cycle lanes on Ian McKinnon Drive.
* Shared path on Onehunga Harbour Drive, linking SH20 cycleway with Manukau Bridge.
* Te Wero Bridge, across the Viaduct Basin, connecting to the Wynyard Quarter.
* Bus/cycle lanes on Symonds St and car-free Grafton Bridge.
* Kingsland section of the Northwestern cycleway - the missing link in a route to the city centre.
* Improvement in network of routes around the Manukau Harbour - Onehunga to Mangere.
* Wynyard Quarter.
* The 70 new bike stands.