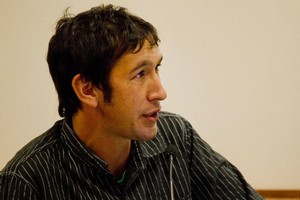 The control room operator who lost his brother at Pike River Mine was speaking to the men underground when the explosion occurred and the intercom system may have recorded the blast.
A transcript of a recording of the intercom system presented to the royal commission of inquiry in Greymouth yesterday morning shows that as the minutes passed, Daniel Duggan became increasingly worried and frustrated: "Anyone underground? Anyone?" he called in vain, the court heard.
Many wept as his evidence was read.
Mr Duggan, whose brother Chris was among the 29 victims, was speaking to the men just before 3.45pm, when he was told scheduled maintenance had been done, and he was asked to restart the water pumps.
He did this, and called the miners back to notify them the water was coming back on, so they could recommence mining.
Someone, probably fitter Malcolm Campbell, answered but then alarms went off and communication was lost.
Noise can be heard in the recording (which was not played in court); Mr Duggan said he did not notice the noise on the day.
"Hello sparkies?" Mr Duggan asked. Only the control room alarms can be heard.
There was a 45-second gap, with no response. He asked again. He waited, then tried to phone men he knew were working at the hydro panel at the coal face.
Then more alarms can be heard, and Mr Duggan swears in worry and frustration.
"Anyone underground? Anyone?"
There was no communication underground at all.
Soon after, he told someone: "I have got a really bad feeling about this."
Mine manager Doug White said not to call Mines Rescue yet. Electrician Mattheus Strydom then went underground and reported there had been a blast.
Mr Duggan immediately called Mines Rescue, then an ambulance. At that stage, an hour later, they had not heard from anyone underground.
Earlier yesterday, the commission heard from safety training co-ordinator Adrian Couchman who went into the mine one day before the blast as he was filming shot-firing for a video.
His evidence is crucial as he was the last to see the self-rescue and fire boxes. Images filmed underground after the November 19 explosion show one box is open.
There has been considerable debate over which box and a possible body part lying in front of it.
It has led to speculation someone may have survived the blast, or might have been reaching for firefighting equipment.
Mr Couchman's evidence suggested the open box was more likely to be a self-rescue box, with the fire box behind it.
He said two phones were not working - one at pit-bottom, and one at the decommissioned fresh air base, where the air vent was also not working.
The hearing continues.
Transcript
Daniel Duggan turned the water pumps back on and rang underground to say mining could resume:
Duggan: "Hello, ABM or road header."
Reply from underground: (8 seconds later) "Hello Dan, who you looking for?"
Duggan: (3 seconds later): "Control, just after the ABM and road header."
(Noise from an unidentified source)
Duggan: (13 seconds later): "Hello sparkies."
(Alarms audible in the control room in the background)
Duggan: (44 seconds later): "Hello underground, any sparkies?"
Duggan: (50 seconds later): "Hello, a monitor place."
(Alarms audible in the background)
Duggan: (70 seconds later): "No (expletive) is ringing."
(Alarms still audible in background)
Duggan: (8 seconds later): "Hello, anyone underground."
Duggan: (25 seconds later): "Hello. Monitor place, anyone underground, anyone?"
- APNZ
- APNZ