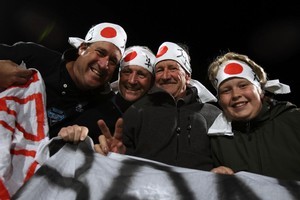 The Rugby World Cup is now New Zealand's cup.
After the beauty and bedlam of Friday's opening night in Auckland, the rugby heartland embraced the tournament with passion yesterday and were rewarded with four matches that raised hopes this could be the greatest Rugby World Cup yet seen.
With prices as low as $31, an estimated 75,000 fans packed stadiums from North Shore to Southland - and very nearly witnessed historic upsets.
The action began in Invercargill, where a last-minute ticket blitz meant a near sellout crowd of 14,000 watched Scotland pull off a narrow 34-24 victory over Romania.
In a town of strong Scottish ancestry, the outnumbered Romanian fans still managed to out-sing the Scots' Tartan Army when their team hit the front with eight minutes to go.
Spectator Alan Dennis said the yellow, red and blue of Romania in the crowd went "absolutely ape".
He added: "You felt like Rugby World Cup had arrived in the provinces."
Invercargill Mayor Tim Shadbolt praised the organisers' strategy of spreading the opening weekend's games across the country.
In Rotorua, a healthy crowd of around 10,000 turned out to see Fijian flair overcome the gutsy Namibians.
Fan Norm Carter said the vocal Rotorua crowd impressed him most, even turning their support towards the Namibians halfway through the game.
Albany on Auckland's North Shore almost sold out and was transformed into a "little Tokyo" as Kiwis adopted the Cherry Blossoms of Japan as their second team.
Kiwis dressed in red and white kimonos and samurai outfits as the Japanese team gave France a fright before eventually losing 47-21.
TV3 newsman John Campbell, who went to the Albany match, Tweeted: "Just back from North Harbour Stadium. Japan v. France. What a tremendous atmosphere - and the Japanese gave it everything. Utterly magic!"
There was no repeat of Friday night's transport meltdown with buses and trains clearing the 24,000 strong crowd comfortably.
Kenji and Miyabi Iida, from Aomori in Japan, said the 19km bus journeys to and from North Harbour Stadium last night were seamless.
The night before, dozens of cars were towed from parks near Albany, despite some of them having been guided in by officials.
A tow truck driver working for Vehicle Recovery Group said six vehicles worked for several hours removing some of the 200 illegally parked cars.
"I would have towed them all if I could have," he said.
"The drivers were like sheep - one parks there then everyone parks there. The ground has been ripped up and the owners weren't happy about it."
Rugby fan Keith Gilby returned from Eden Park with his 9-year-old son to find their car had been towed from a parking space recommended by staff.
He was charged $230 to get it back before making the four-hour drive back home to Kerikeri.
"We were simply following directions given to us by their staff, trying to do the right thing and use public transport and feel that the spirit with which they have acted is appalling."
In Dunedin yesterday, rugby fans from England and Argentina displayed their passion in the Octagon prior to the clash at Otago Stadium last night.
The English - dressed all in black - just beat the Argentines 13-9.
Police stepped in to maintain a line between chanting factions as boisterous English and Argentinian supporters traded pre-match banter and deregatory tunes in the afternoon. It was a close call, but the samba-inspired Spanish songs of the fervent Argentinian fans often seemed to drown out the English supporters' chants and the repetitive drone of Swing Low, Sweet Chariot.
Police said fans were extremely well behaved, with just a handful of arrests.
Stadium spectators didn't stop the chants and singing once they made their way inside the ground, although the loudest cheer was saved for a rogue streaker who managed to elude security staff to romp naked across the pitch.