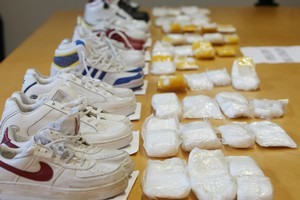 Ten Malaysians caught smuggling methamphetamine in their shoes will be sent to the High Court for sentencing next month.
The eight men and two women were found with at least 8kg of the illicit drug when they arrived at Auckland airport in April.
They have pleaded guilty to charges of importing methamphetamine. Each had between 800g and 1kg hidden in their shoes.
The bust involved the largest number of drug couriers caught in a single incident at the New Zealand border.
Yuen Fatt Wong, 61, Teng-Kim Ooi, 52, Tan Ah Nya. 51, Sit Mooi En, 29, Lian Fong Wong, 53, Eng Wan Teoh, 22, Ah Kooi Teoh, 21, Eng Hin Ong, 39, Waihong Leong, 23 and Ewe How Ong, 40, appeared at the Manukau District Court today (Thursday).
They were accompanied by translators and had to be called into the small dock in two groups of five.
Crown prosecutor Richard Marchant asked the court to decline jurisdiction and have the matter transferred to the Auckland High Court. There was no opposition from defence lawyers.
One of those is lawyer Mark Edgar.
Outside court he said some foreign nationals found it hard in ew Zealand prisons because there were language barriers and they were cut off from friends and families.
He said his client and the others were poor people in Malaysia.
"They are susceptible to the drug cartels."
He said "mules" tend not to be given any information or details about the operation they work for.
- APNZ