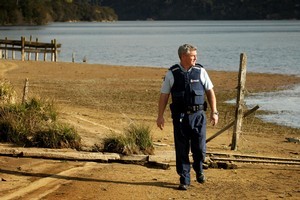 The level of a lake on which two men went missing more than a week ago was lowered yesterday to help searchers, but to no avail.
James Roberts, 45, and Jordan Pooley, 21, are believed to have set off from Jones Landing at Lake Arapuni on the morning of August 28, and have not been seen since.
The alarm was raised when Mr Roberts' dog Maggie made a 10km trek back home and was spotted by a neighbour three days later.
Yesterday, Mighty River Power lowered the lake about a metre to aid searchers that included members of the police dive squad and the Taupo Youthtown Rescue Helicopter.
The Waikato Regional Council harbourmaster and a number of friends and family members were also on boats helping with the search but their combined efforts revealed nothing.
Yesterday several of Mr Pooley's family gathered at Jones Landing. The Herald understands two of his brothers were out on boats helping in the search for him.
One woman said his family were private people but were grateful that so many locals had helped with the search.
"We are basically here from dawn until dusk and we will be until we find them," she said.
Taupo police area commander Inspector Steve Bullock said some clothing found this week including an oilskin vest and a pair of boots about 10km south of Jones Landing was likely to have belonged to one of the men.
Mr Bullock said the discovery had helped police to narrow their search upstream from their find although their task was still a difficult one and because of the underwater terrain searchers could use sonar equipment only in limited places.
"The difficult part is it's a huge expanse of water and the other difficulty is the terrain - there's a sunken forest up there and there are still a number of trees under the water."
"There is also weed which is a concern for the safety of our divers and also if the men or the boat went under the weed it would be very difficult to locate."
Mr Bullock said police would be continuing their search today. The police dive squad will also remain at the lake.
Mr Roberts' stepsister Jonica Bray said she would go to Waikato after she arrived from Sydney this evening.
His family from England, including his son who has been granted compassionate leave from service in Afghanistan with the British Army, are understood to be travelling to New Zealand and will arrive tomorrow.