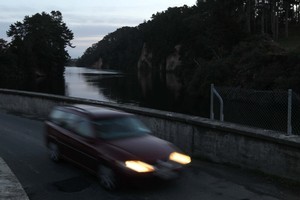 A major search at Lake Arapuni today has so far failed to find two fishermen missing for over a week.
Jordan Pooley, 21, from Tokoroa, and 45-year-old James Roberts from Putaruru are believed to have set off in a 3-metre boat from 'Jones Landing' at the northern end of the lake around noon on August 28.
The alarm was raised last Wednesday when a dog belonging to Mr Roberts returned home, almost 20km away, without him. Police were notified that night and a search of the lake began at daybreak the next day.
Over the past week, police have been searching alongside search and rescue volunteers, the Waikato Regional Council harbourmaster, residents and friends and family members of the missing men.
Taupo Police area commander Inspector Steve Bullock said searchers had found two boots and an oilskin vest in the lake over recent days which police are confident belong to the missing men.
The hunt was taken a step further today after the lake was lowered by about 1 metre.
The Taupo rescue helicopter with police staff on board searched from the air while the police dive squad worked under the water.
The harbourmaster and police staff searched from a boat while volunteers and friends and family of the missing men worked around the lake edge.
"Sadly, despite an extensive search operation over the past week and this major co-ordinated effort today, there is still no sign of the missing men," said Mr Bullock.
The search will continue tomorrow. The dive squad will continue searching using sonar equipment tomorrow.

- APNZ