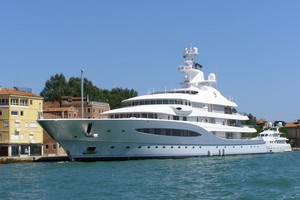 One of the world's largest superyachts is on its way to New Zealand for the Rugby World Cup.
The Mayan Queen IV, a 92m monster owned by Mexican billionaire Alberto Bailleres, is one of dozens of multimillion dollar yachts that will be lending the glam factor to Auckland marinas.
Marine industry sources are reluctant to release the names of visiting yachts, but one industry insider named half a dozen glamorous vessels on their way to Auckland.
They include the 34m Ophelia, which features a large spa, two large support boats and room for a helicopter; the 47m Ocean Victory; the Spanish yachts Alarife and Ammonite; and the 31m, nine-bed Espiritu Santo.
But the Mayan Queen IV outshines them all, in size and specifications. The five-deck launch can sleep 16 guests and 24 crew, and has an outside bar, spa, sunbathing spaces and smaller pleasure boats available to use.
There is plenty in Auckland to attract the owners and skippers of these vessels. The Auckland International Boat Show will run from September 15 to 18, to coincide with the Cup.
One of the featured events is a superyacht captains' forum, to be held on September 15 and 16.
Waterfront Auckland chief executive John Dalzell says New Zealand is a long way to come for superyachts so it is a good opportunity for local refit companies to promote themselves.
"I would suggest that some of the yachts that are coming down for the World Cup could even stay and have maintenance on them."
The recently completed Wynyard Quarter has three 90m berths near Silo Park, which are used for superyacht re-fits. If they're not already booked, Dalzell says, they can be used for berthing some of the visiting yachts.
The new entertainment precinct makes the area more attractive for yacht owners, he says.
Te Wero Bridge provides access around the water's edge and "that's where the people want to be".
Heart of the City chief executive Alex Swney says Auckland can cater to the needs of those well-heeled customers. High-end retail stores like Gucci and Louis Vuitton make Auckland a world-class place to eat and spend.