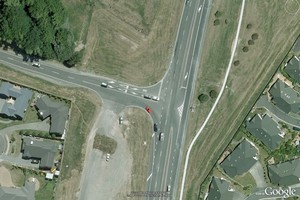 Transport officials have identified the most dangerous intersections in the Waikato amid concern that the region's road toll is rising in defiance of national trends.
Most of the ten worst crossroads are in Hamilton City, although the highest crash rate in the central North Island heartland between 2006 and the end of last year was just north of Taupo at the intersection of Poihipi Rd and what was State Highway 1.
That should become less dangerous now the new Taupo bypass has assumed main road status and is diverting long-distance traffic from what has been redesignated State Highway 5.
There were 19 crashes at the intersection in the five-year period, but although 32 people were injured - three of them seriously - nobody was killed.
The next most dangerous intersection, according to figures supplied yesterday by the Transport Agency, is where Holland Rd meets State Highway 1B east of Hamilton.
One person died there and 21 people were injured in 14 crashes.
The same number of crashes was reported at two intersections in the city itself, Victoria St-Boundary Rd and Peachgrove Rd-Te Aroha St.
Nobody died there but 18 people were injured at the Victoria-Boundary crossroads, two of them seriously.
At the Peachgrove-Te Aroha intersection 21 people were injured but only one seriously.
Fifth place went to the Bridge St-Victoria St intersection at the southern end of Hamilton's central business district, where 10 people were injured in 13 crashes, six of them seriously.
The Hamilton City Council has made safety improvements to the Victoria-Boundary intersection to the north of the CBD, including adding directional arrows to traffic lights to take some of the guesswork out of trying to turn safely.
It also plans to widen the Peachgrove-Te Aroha intersection next year, in conjunction with construction of the city's new ring road which will cross the neighbouring Ruakura Rd to the east.
But an official said the Bridge-Victoria intersection was more problematic, as it was too busy for directional arrows, which were considered too disruptive to heavy traffic.
Crashes at intersections throughout the Waikato, Coromandel and Central North Island areas accounted for 52 deaths in the five-year period.
The highest fatality rate was at the intersection east of Tirau of State Highways 1 and 5, where three people died and 16 were injured - five of them seriously - in 12 crashes.
Waikato roads have claimed 34 lives this year, making the region the highest contributor to the national toll which was yesterday 183.
That compares with 40 deaths for all of last year in the Waikato.