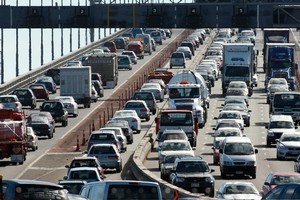 The car remains king in the daily struggle to work for Aucklanders, although the harbour is an uncongested "highway" for those fortunate to live near ferry wharves.
A survey of four Herald staff shows that only one had a shorter journey to work on public transport, and cost and convenience made the car trip preferable.
Australian transport academic Paul Mees, a long-time observer of Auckland, said the results were no surprise because of the Government's prioritising of roading projects over public transport.
He acknowledged that the $1 billion rail electrification project, which is largely funded by the Government, would make trains more attractive by increasing reliability and acceleration out of stations.
But rapid entry to the city centre through a $2.4 billion tunnel project which the Government is resisting was needed before Auckland could look forward to anything like Perth's boom in rail travel, he said.
"At the risk of encouraging speed competitiveness, in Perth you can get 72km to Mandurah on the new southern line in 48 minutes.
"In a sense, it's their equivalent of your proposal because they enter the city centre in a tunnel - it has really transformed their rail system, which is already something of a model for others."
Perth expects 60 million rail passengers trips this year from a population of 1.6 million, up from about eight million trips since it switched to electric trains in the 1990s, selling its old diesel units to Auckland.
Auckland's annual rail patronage is 10 million passenger trips, from a population of 1.4 million, compared with two million trips in 2003.
Dr Mees also acknowledged the worth of Auckland's bus priority lanes, but said traffic congestion was not the only reason for slow bus trips.
"Very poorly organised fare systems also slow buses down - the fact that a lot of people buy tickets from the driver and the fare system is relatively complicated."
Neither was the integrated public transport Hop card the best answer, he said.
"Best practice is to get all your regular commuters on monthly passes, so they don't have to zap any machines, they just flash their printed monthly at the driver and get on board.
"But there's very little incentive for people to buy periodical tickets like monthlies."
Auckland Council transport chairman Mike Lee said public transport was being improved "week by week, month by month", and the Australian's comments were a bit outdated.
"A huge amount is being invested in public transport, people are responding and patronage is significantly improving and this year Auckland is set to pass Wellington as the number one rail city."
But Campaign for Better Transport convener Cameron Pitches said that although he agreed considerable progress had been made, an indication from the Government of annual public transport infrastructure spending of $40 million in coming years was a serious concern.
He said drivers in Sydney had a far less easy ride than their Auckland counterparts. They faced daily parking charges of A$35 ($44) and road tolls such as A$5.50c ($6.92c) to travel through a tunnel between the airport and city.