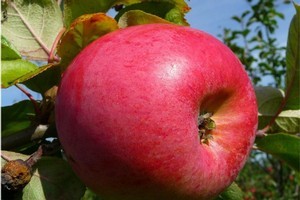 After 90 years without Kiwi apples on their shelves, Aussie shoppers are giving our apples the thumbs up.
Around 4000 kilograms of the fruit arrived in Australia this week, however under pressure from their local apple industries, the Victorian, Tasmanian, and South Australian are continuing the fight against the import of the New Zealand produce.
Australia banned the import of New Zealand pipfruit and trees for over 90 years, after fireblight was found in Northland in 1919, but last November the World Trade Organisation ruled Australia should remove restrictions on Kiwi apples as fears over the bacteria spreading to their fruit were proven unfounded.
Melbourne fruit seller Tony Ansaldo told the Melbourne Age sales of the New Zealand apples were "a little bit slow". However one consumer who spoke to the paper supported New Zealand apples being sold in Australia because it gave buyers more choice.
"They tasted quite nice," Cindy from North Balwyn said after a free sample.
"If they are competitive with our apples I suppose it keeps the Australian apple growers honest."
Fresh Produce Group Australia's Robert Nugan told Newstalk ZB shoppers at Sydney markets had been cautious, but sales were picking up.
"We are seeing, at least today, more interest in looking at them and taking some for sale."
Nugan himself was impressed by the new imports.
"They were good, the Striped Fujis were very sweet and I think they probably have had the best response so far."
He believed it may take some time for Australian growers to realise importing New Zealand apples will not put their industry at risk.
Despite the WTO decision and the federal government overturning the ban, the Tasmanian government is continuing its ban on apples from areas affected by fire blight, while the South Australian government wants to impose quarantine zones to keep Kiwi apples out of apple growing regions.
The Victorian government is seeking legal advice as to whether it can ban New Zealand apples from fruit growing regions in the state.
"We respect the trade determination made by the World Trade Organisation, but we have serious concerns about the risk of fire blight," Agriculture Minister Peter Walsh told the Age.
However in Queensland, the Government supports the import of the New Zealand apples.
Agriculture Minister Tim Mulherin told parliament most Australians would continue to support the local industry regardless.
"This government believes in free trade, it is in the interests of agriculture," he said.
A poll on the bottom of the Age's story found opinions were split on the import of the Kiwi produce, with 51 per cent saying they would buy New Zealand apples.
- with AAP