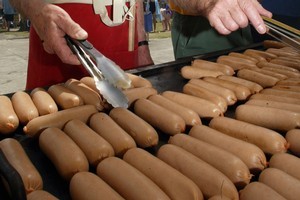 More than 30 rules have been imposed on sausage sizzles near Eden Park - which are technically banned anyway by Rugby World Cup promotional policies.
A spokesman for Auckland Tourism, Events and Economic Development, a council-controlled organisation, said the council would take a "common sense approach" in its policing of sausage sizzles for fundraising.
This squeezes any sizzling plans between two sets of guidelines - one outlining compliance codes and the other banning them outright.
The first is from the council and the second from the Ministry of Economic Development.
For at least one resident near Eden Park, it has become too hard to be even worth trying.
"In regards to sausage sizzles, while only official sponsors are allowed to trade or advertise within a designated 500m 'clean space' near venues as per IRB Rugby World Cup regulations, the Auckland Council has said it will take a common sense approach," said a spokesman for the council agency.
"Generally speaking, people can't operate a food business on public land without a street trading licence - as the normal bylaws state.
"However, the council recognises that people enjoy fundraising sausage sizzles and will generally take a relaxed approach."
The Auckland Council said in a letter this year it acknowledged sausage sizzles were part of the tradition of big events at Eden Park.
They would be permitted at the Rugby World Cup provided they were for charity and complied with council bylaws and the Major Events Management Act, it said.
A separate list of rules set out more than 30 rules sausage sizzles must follow, such as storing all food at least 45cm above the ground.
Resident Rob Cobb said all the rules put sausage sizzles in the too-hard basket. They were as much about creating atmosphere around Eden Park as fundraising, he said.
Banger bans
* Pre-cooked sausages only.
* Barbecues permitted only on private land.
* Cooked sausages must be hot in the middle.
* Cooking must be done off the ground.
* Profits must go to a charity.
* Animals banned from stall.
* Loud hailers not allowed.
- Auckland City Council