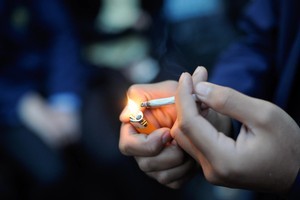 Fires and arsons at prisons have dropped significantly in number since a smoking ban came into force last month, Corrections Minister Judith Collins says.
Smoking has been banned in prisons since July 1 and inmates have not been able to buy tobacco, matches or lighters since June 1.
Ms Collins today said there had been a "significant reduction" in the number of fires and arson-related incidents since the ban came into effect.
There were four such incidents last month and only one so far this month, compared with 18 in the month prior to the ban.
Ms Collins said there had also been a noticeable improvement in air quality.
"The result is that our prisons are much safer and healthier places for Corrections staff," she said.
About 6000 inmates undertook nicotine replacement therapy in the months before the ban, with reports some had tried to smoke the patches to get their fix.
Before the ban, two-thirds of prisoners were smokers - triple the rate of smoking in the community - and smoking was the most common health risk factor among prisoners.
Ms Collins said many inmates entered prison with drug or alcohol addictions.
"If we're serious about helping them beat these problems we shouldn't have addictive substances of any kind in our prisons," she said.
Other countries, and most Australian states, had shown interest in how the policy was successfully implemented.
- NZPA