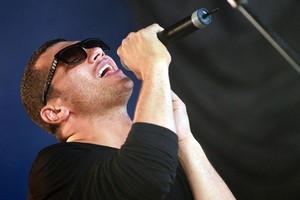 From Greg Johnson and the Topp Twins to Anika Moa and the Feelers - New Zealand's best musical talent is about to go on show to the world.
Rugby World Cup Minister Murray McCully has announced a series of live concerts involving 50 bands that will play in 22 cities during the Rugby World Cup.
The 60 concerts, many of which will be free, are being co-ordinated by the Government's NZ2011 Office as part of the REAL New Zealand Festival and Sector Showcase programme.
"The Rugby World Cup offers an unprecedented opportunity to showcase the best of our country to the world," said Mr McCully.
"Over the six weeks of the tournament we will be highlighting the best of our film, fashion, food and wine, agribusiness, ICT and many other sectors. The REAL New Zealand Music Showcase provides the platform for contemporary New Zealand music to also be on show."
Mr McCully said 85,000 international visitors will be in New Zealand during the tournament.
"In between watching the rugby will be the chance to enjoy all the talent and depth of New Zealand music. Not only will it add to the festival spirit it will also showcase the best of our musical talent to our overseas visitors," he said.
Acts range from Opshop, Supergroove, The Feelers, Fat Freddy's Drop, The Black Seeds, The Chills, Phoenix Foundation and I Am Giant, through to blues legend Midge Marsden.
In Auckland, where many of the top bands will play at Queens Wharf, the concerts will be free.
The live music concerts are supported by the REAL New Zealand Music on Screens project, which showcases three hours of New Zealand music video and will be played on big screens at Fanzones throughout the country.
Further details about the full Queens Wharf programme are expected to be announced later this week when Mr McCully is in Auckland.
The Herald last week revealed details of the opening ceremony which will kick off with a 12-minute fireworks show. The 10-hour opening night programme will span the Viaduct Harbour and Quay St to Queens Wharf and begin with 20 carved waka, each carrying 30 people, paddling into the Viaduct Harbour.
Dave Dobbyn will serenade the return of the rugby tournament to New Zealand by singing Welcome Home. A haka by the 600 waka paddlers will be followed by an 80-minute concert by the Finn Brothers on Queens Wharf.
For more information about the events visit www.nz2011.govt.nz
- Staff reporter