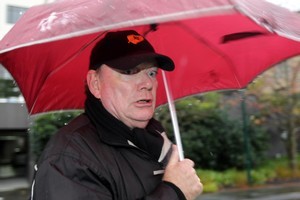 As a journalist I was disgusted to see one of my contemporaries, Close Up's Kate Lynch, blatantly plagiarise someone else's work.
Admittedly, we creative journalists tread a fine line, paying homage to others' work on occasion and openly borrowing research material on others - but to so obviously steal an entire concept and then claim it as your own is unacceptable. It reflects badly on all of us and is a cautionary tale. But on to this week's column.
Despite the hysteria and misreporting which emanated from the UK's Million Women Study, hormone-replacement therapy is a wonderful development of modern medicine.
A serious doctor can tell you the physiological benefits of these "happy pills". Tongue firmly in cheek, I say instead of sacking Alasdair Thompson, former head of Employers and Manufacturers Association, they could have prescribed Estrafem 2mg. It might have made him more "womanly". Then again, maybe not.
One thing we can thank him for, though, is raising the equity debate and bringing some facts out into the sunlight. Thompson, remember, was being interviewed about the differences in salaries between men and women, and what the cause of that might be.
Is there a gender pay gap in this country for people doing the same job? It seems so, according to research from the Ministry of Women's Affairs - up to 17 per cent less than men for graduates with equivalent degrees. But the causes are complex and - women won't want to hear this - it's largely our fault.
To generalise, we just don't care enough. It seems we're not as pushy as men when it comes to negotiating pay rises. We also take years out of our careers to have children, therefore miss out on promotions.
So what do we want? To have our cake and eat it too? Green MP Catherine Delahunty's Equal Pay Amendment Bill which she says will remove discrimination?
This will force employers to report all employees' personal records - salaries, home address, education - to the Labour Department for statistic keeping and publication. It will also force employers to reveal this information to any employees who demand to see it or, if confidentiality is an issue, an independent arbitrator. Who pays? Three guesses.
Sisters, this is not feminism. This is patronising. This says women are so feeble they need Big Brother to force bosses' arms up their backs and give women, who mostly are paid less at the moment, equality. What happens when the tables inevitably turn and women are paid more? Will we show ours if they show theirs?
But there is hope for equity from our youth. Midweek I co-judged a debate, Youth for Act. They want government out of our lives.
And here's a good analogy they posited: If liberal parties just want individual freedom, like tax cuts, to enrich themselves, consider this: Do you really think Sir Roger Douglas and Heather Roy voted against the banning of Kronic because they want to smoke themselves into a stupor?