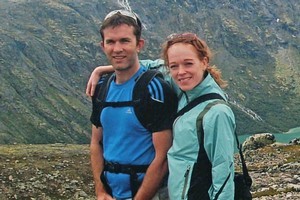 A second New Zealand family have been left in mourning after an Auckland man's wife was killed in the Norwegian attacks.
Ida Marie Hill was leaving work when she was hit by the blast from a bomb set by mass murderer Anders Breivik.
Eight people died in the bomb attack. Breivik, a right-wing anti-Islam fanatic, followed it with a shooting spree at a youth camp on nearby Utoya Island, killing 69 people.
Mrs Hill's Auckland-born husband, Steven Hill, has been living with her in Oslo for four years and his parents are now there supporting him as they prepare for her funeral.
Steven's uncle, David Hill, last night told the Herald the family was still "incredibly upset" and were staying with Mrs Hill's Norwegian family.
"She was missing for a while because they couldn't find her body. They ended up having to identify her through DNA which was taken from her mother and her sister," Mr Hill said.
"It was very traumatic for them. She came out of the government building with a friend and were very close to the van when it blew."
The 34-year-old was working for the Ministry of Justice, and on the day of the attacks told her husband she was going to leave work a couple of minutes early.
"She wasn't meant to be there at that time," Mr Hill said. "If she had left work when she normally did, she might still be alive."
Mr Hill said Steven grew more and more worried when he heard about the bomb exploding near her office and she had not called him.
"She's not the type of girl who wouldn't call. I think that was when Steven knew something was wrong."
Steven called his parents on the day of the July 22 attacks to tell them what happened.
"I think they were both in shock," he said.
"They flew out there to stay with them and help him through it."
Steven was born in Auckland and grew up in Pakuranga. He studied engineering at the Manukau Institute of Technology in 1990.
When he finished his degree, he went travelling for several years. He met his wife overseas and settled down with her four years ago.
Mr Hill said the couple were married two years ago in Norway and Steven started working for an oil services company in Oslo.
Steven and Mrs Hill had returned to New Zealand for the last couple of Christmas holidays. David Hill met her for the first time in 2009.
"She was lovely - just a very, very friendly and kind girl."
Mrs Hill, who had a law degree, had previously worked for Amnesty International and for the United Nations in Tanzania and then Geneva.
Her employers at Norway's Ministry of Justice described her as a "dear and highly valued employee".
Her funeral will be held next Tuesday.
Breivik's other Kiwi victim was 14-year-old New Zealand-born Sharidyn Meegan Ngahiwi Svebakk-Bohn, who was shot on Utoya Island.