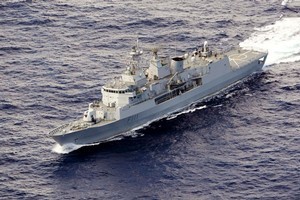 Shirtless New Zealand Navy sailors were seen drunk and brawling in the main streets of Port Vila, Vanuatu in April - the latest allegation of boozy behaviour in the services.
A member of the New Zealand Defence Force attached to a party from the HMNZS Canterbury said he was disgusted at the behaviour of the sailors shortly before Anzac Day .
The man said during the April visit to Vanuatu, many sailors were "rolling drunk" within hours of stepping ashore.
While army personnel were given instructions and organised in groups each of which included a senior staff member, "the navy literally let the dogs off the leash", he said.
"A number of naval personnel were completely drunk by mid-afternoon in a binge-drinking frenzy. By 11pm, some were shirtless and brawling in the main street of Port Vila.
"I got the terrible impression they just threw the gangplank down, and they went scampering off the ship like rats."
Defence Minister Wayne Mapp has asked for a briefing about the navy's use of alcohol "in light of recent incidents".
The claims by the man, who the Herald will not name, come after former HMNZS Te Mana skipper John Butcher was last week relieved of his command.
He is alleged to have become drunk after rapidly downing several glasses of wine at a formal function in Port Vila last month.
Commander Butcher has been asked to write a letter of apology and a court of inquiry has been opened to decide if he will face disciplinary charges.
Of the April incident, the man said he had to ask a group of "obnoxious" sailors to leave a restaurant.
"I told them to get out of the restaurant and one came very close to hitting me. He was ready to rumble and I said, 'come on, please make my day'.
"I was almost wishing that he did [hit me] as he would have got six months in the stockade at Burnham.
"You could see the tourists sitting at adjacent tables were pretty disgusted at their loud, obnoxious carrying on, and their foul language."
Afterwards, he said an army non-commissioned officer was assaulted while trying to break up a brawl between several sailors in the street.
"The navy seems to have no concern or pastoral interest in their men and women once off the ship."
He put the behaviour down to a "clear disconnect" between the ship's senior ratings and crew members.
"The drinking culture ... it's a shocker."
Mr Mapp was aware of reports about a "further incident" in Port Vila in April, his press secretary said last night.
"He has now asked for a briefing from the Chief of Defence Force as to whether the current policies and awareness training on moderate use of alcohol are adequate, in light of recent incidents."
- additional reporting: NZPA