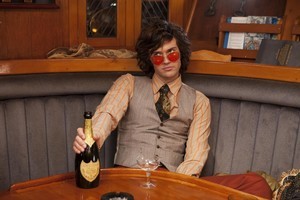 The new series of Underbelly might be full of thugs dealing drugs, but the TV3 show has given up without a fight against a pub quiz team of upstanding citizens - with the last-minute rescheduling of the crime saga to avoid competition with TV One's Nothing Trivial.
Yesterday TV3 gave in to pressure and said it was shifting the crime saga about the early days of 70s drug lords Christopher Martin Johnstone and Terry Clark out of the Wednesday 8.30pm slot.
TV3's director of programming, Kelly Martin, cited concerns about the apparent clash of local shows made with taxpayer money from New Zealand On Air.
NZOA gave Nothing Trivial $6.9 million, and paid nearly $4 million for Underbelly NZ: The Land of the Long Green Cloud.
TV3 had maintained that the 8.30pm Wednesday slot was vital to the show gaining an audience.
But yesterday Martin said the show would start an hour later the following week on August 17, taking over from US bikie drama Sons of Anarchy at 9.30pm.
The change has meant the new Dai Henwood-fronted Rocked The Nation: 100 Sporting Moments has also been shifted a week later to the Wednesday 8.30pm slot.
* Today's TimeOut goes behind the making of Underbelly NZ: The Land of the Long Green Cloud. Because of the changes, the magazine's primetime listings for TV3 for Wednesday are incorrect.