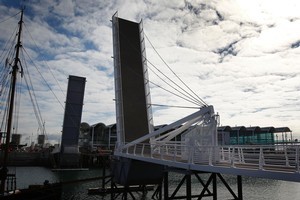 Aucklanders will be wowed when the first stage of the new Wynyard Quarter opens on Saturday. This week the Herald features the seven public projects that form the core of the $120m development.
Aucklanders will get an early taste of a $120 million waterfront development on Wednesday when a new bridge linking the Viaduct Harbour to Wynyard Quarter opens.
Dummy runs for the $3.7 million Wynyard Crossing (or Te Wero Bridge) begin today before an official blessing on Wednesday morning, after which the pedestrian and cycle bridge will open to the public.
But access to Wynyard Quarter will be limited to the new $32 million Viaduct Events Centre where the Auckland Art Fair opens on Thursday.
The crossing is one of seven public projects costing $120 million at Wynyard Quarter that Prime Minister John Key and Auckland Mayor Len Brown will open on Saturday.
They include the newly cobbled and landscaped Jellicoe St, a public plaza across the bridge at the entrance to Wynyard Quarter, the North Wharf promenade, Silo Park at the western end of Jellicoe St and a 1.5km tramcircuit.
Wynyard Crossing will provide direct access from downtown Auckland, via the Viaduct Harbour, to Wynyard Quarter.
Waterfront Auckland chief executive John Dalzell said the bridge would enable locals and visitors to connect with a new part of the harbour edge, buy fresh fish from boats unloading at North Wharf, enjoy restaurants and bars and stroll west to a new children's playground and park overlooking Westhaven Marina.
Heart of the City chief executive Alex Swney said the Wynyard Quarter would be one of the "stars of the show" at the Rugby World Cup.
The 100m crossing is a double bascule opening bridge with three approach spans, a back span and a lifting section to provide a 36m channel clearance for boats when open.
At high tide, there will be a 3m clearance beneath the bridge, so smaller vessels can pass underneath when it is closed.
The bridge movement will be managed by an operator positioned at the western end of the crossing.
The operator will lift the bridge - 90 seconds to open and 60 to shut - when requested by radio from vessels entering or leaving the Viaduct Basin.
Signals at both ends will warn pedestrians and cyclists that the bridge is about to open.
The 5m-wide bridge will be for pedestrians and cyclists only. Plans for a 40m-wide bridge costing about $50 million were shelved by the former Auckland City Council, but could be revised at some stage to take trams or light-rail into the city.