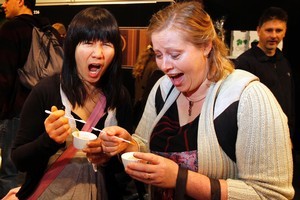 Auckland-made Gringo Killer chilli sauce is so hot even its creator won't eat it - but dozens of food lovers braved the burning sensation at Auckland's Food Show yesterday.
Margaret Dagger is the creator of Gringo Killer ("gringo" is a Mexican term for white man). She said she grew one of the world's hottest chillies, Bhut jolokia, in her Titirangi backyard and whipped the hot produce into a sauce called Bhutt Burn.
"I mix it with onion, garlic and roast capsicums, which I roast myself at home, so it has three times the ingredients to give it flavour," Dagger said.
The medicinal herbalist, who uses natural products for healing purposes, creates the sauces in her kitchen wearing gloves, a face mask and swimming goggles because the chilly fumes are so potent.
Natalie Knight, a quantity surveyor from Remuera, said it took about five seconds before a wave of intense heat hit her body after sampling Bhutt Burn.
"It sits on your tongue and I didn't react at first but then five seconds later I was like wow it's so hot ... I've still got a red face, I'm off to the wine stand now," said Knight.
Nearly 13,000 people attended the Food Show yesterday, where they could also try wasabi-flavoured vodka, eat fritters made with West Coast whitebait, and watch mozzarella cheese being made in under a minute.
Event organisers are expecting an even bigger crowd for the show's last day today at the ASB Showgrounds in Greenlane.