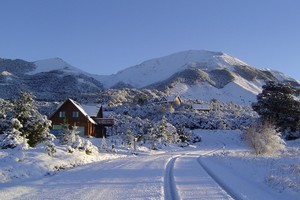 Skiers who braved a cold night trapped on a Canterbury mountain are now making their way home.
Around 250 skiers were stranded up Mt Lyford, 2km from Waiau and 60km from Hanmer Springs, after avalanches blocked the road out yesterday afternoon.
Mt Lyford Skifield owner Doug Simpson said the road has been cleared for about an hour, although further snow drifts meant more explosives had to be used to create a path for the skiers vehicles.
"I'm just standing next to the first of all the vehicles and I can see a big trail coming down the hill out of the ski basin," Mr Simpson said.
"As soon as we get them all tallied up I will get in the ski groomer and lead them around and down."
Mr Simpson said it would take about half an hour for all the vehicles to get to Lake Stella further down the mountain.
"Luckily the wind has eased off a little bit and it is quite warm ... there's not too much ice, which is a bit of a relief."
Mr Simpson's wife and his son's fiancee were among those who spent the night on the mountain, stuck in the skifield's cafeteria.
He said there were a few relieved faces around the skifield this afternoon.
"I had a full head of hair yesterday morning - I've got nothing now," he said.
"It's pain in the arse for everybody who had to stay up here obviously, [but] it would have just been lethal [to leave] last night."
Mr Simpson said there is a known avalanche risk along the road to the skifield.
"We had a four avalanches - not big ones. Nothing TV1 or TV3 would be chasing in a helicopter. They were probably two or three metres deep across the road."
The South Island continues to cope with the massive dump of snow throughout Canterbury and Otago which closed roads, airports and services earlier this week.
Roads opening
State Highway 94 from Te Anau to Milford Sound has reopened, however chains are essential and towing vehicles are prohibited.
MetService last night forecast Milford Rd would receive between 5cm and 10cm of snow from 9am this morning through to 9am near the tunnel.
Wet snow showers are possible on the higher parts of Arthurs Pass today, with 2-5cm possible between 9am and midnight.
No further snowfall is expected on the Lewis and Lindis passes, and on Desert Rd today.
Christchurch police are warning motorists to stay off the roads as driving conditions around Canterbury could remain hazardous for the foreseeable future.
Continuing low temperatures meant snow and ice was unlikely to clear quickly, Acting Inspector Glenn Nalder said.
"Shaded areas are particularly susceptible to black ice - and you can't see it until you're right on top of it. The best protection is to slow down and be cautious."
Fire Service spokesman Rewai Grace said there had not yet been any significant accidents on South Island roads this morning ans people are heeding advise to stay off the roads if possible.
"Coming in to work this morning I saw a couple of cars spin out, but I think people are using their common sense," Mr Rewai said.
Red zone work starts again
Removal of rubble from the Christchurch CBD will start again today after stopping due to this week's snowfall.
The red zone is set to open at 9am to demolition contractors and engineers, in four-wheel-drive vehicles only.
Canterbury Earthquake recovery Authority demolition manager Warrick Isaacs told Radio New Zealand the bad weather has been more of an annoyance than a set back.
Mr Isaac is not aware of any further damage to buildings as a result of the snow.
"Perhaps a canopy or two perhaps have come down ... our engineers have said they're not expecting any great problems as a result of the snow weight on roofs."
Wanaka's petrol supplies low
Meanwhile Wanaka motorists have been stocking up on fuel, as supply trucks have struggled to reach the resort town.
Caltex ran out of 95-octane on Sunday and 91 on Monday morning, while BP petrol and diesel supplies ran out on Monday evening. Stations were restocked yesterday afternoon.
Mobil and Shell truck stops in Wanaka still had fuel, but only customers with pin-encoded fuel cards could access it.
Wanaka BP Service Station manager Tony Myers said that when the news spread the whole town was running out of fuel "you can imagine what happened. We just had queues and queues ... and as soon as people came down off the skifields it was bedlam."
- Herald Online, Newstalk ZB, Otago Daily Times, NZPA