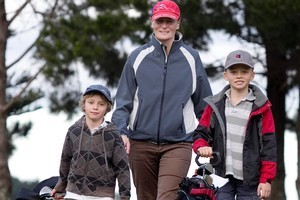 A record number of Kiwis are braving "hideously expensive" cinema prices to see the Harry Potter finale, sometimes two to three times.
Harry Potter and the Deathly Hallows - Part 2 is the eighth and final movie in JK Rowling's wizardry series. It continues to draw crowds and break box office records after opening on Thursday last week.
The film snatched the New Zealand record for the biggest opening week of all time, grossing more than $4 million. It took that title from Lord of the Rings: Return of the King.
Jo Lintott is one of the several hundred thousand "Muggles" - non-wizards, in Potter speak - expected to see the film.
She says she finds the movies "hideously expensive" to take her two children to, so goes only twice a year.
"We only go in the holidays ... and we only go because it's a treat.
"Often I just take snacks from home. With two kids and adults, it's easily over $100 when you let them have drinks and a snack."
Ms Lintott said she normally preferred to take her kids golfing, or to spend $100 on a more active and junk-food free pastime. But today, she would take her son and daughter to the Potter film and would "shut her eyes and suck it up".
Statistics New Zealand figures show the steady rise in movie ticket prices. In 1950, going to a film cost roughly $9 in today's terms. Now, the average adult ticket costs $15.50, or up to $21 to see a 3D film.
For a family of four to go to the movies, the cost of the tickets ranges from $42 for a 2D movie combo to up to $59 for a 3D one.
An Australian consumer advocate group, Choice, found Aussie movie tickets are the most expensive in the Western world. An Australian family of two adults and two children can spend up to A$67 ($83.80) on tickets at popular megaplex-style cinemas - nearly double the Kiwi ticket price.
Aussie cinemas charge around A$18 ($22.50) for an adult ticket and A$15.50 ($19.40) for a child's ticket.
American families of four pay on average US$28 ($32.50).
Event Cinemas operations general manager Carmen Switzer said 116,000 people had been to see the Potter finale at the company's cinemas over the past week, out of a total of 193,00 people going to the movies.
Every second patron heading through Event Cinemas' doors is going to see the wizardry film.
Last week's patronage was double the average week at this time of the year, Ms Switzer said.
"Everyone's being pulled in by Harry Potter. It's definitely going to be the biggest one [of the series] that we have seen."
Ms Switzer said 12,000 people were at the midnight sessions on opening night last week.
"People are sitting in auditoriums and watching Harry Potter and breaking out into applause at different parts of the film. People are coming back to see it a few times."
Ms Switzer said the 2010-11 year was "tracking well" to record the best revenue for cinemas, taking the top spot from last year.

FILM NIGHT
Tickets for two adults and two children (NZ$)*
$83 in Australia
$59 in New Zealand for 3D
$42 in New Zealand for 2D
$32 in United States
* Does not include prices for sweets