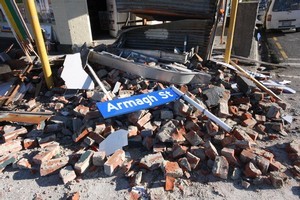 Kiwis are being called to "chip in" for Christchurch today with small acts of kindness to support people in the quake-hit city.
Suggestions on the Big Chip in for Christchurch Facebook page include ringing a Christchurch friend to brighten up their day, placing an order with a Canterbury-based business, or wearing red and black as a show of support.
On an "ideas bank" on the Facebook page, people can offer assistance and Cantabrians can suggest things out-of-towners can do for their city.
Christchurch has been struck by more than 7,400 aftershocks since the September 4 magnitude 7.1 quake, the latest a 3.4 magnitude jolt at 8.02am, 20km northwest of Darfield at a depth of 10km.