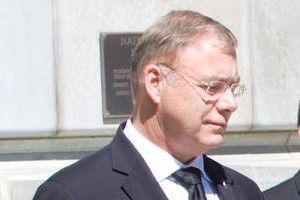 Defence Minister Wayne Mapp has apologised to war veterans who had to dip into their own pockets to attend Battle of Crete commemorations in May, and says the Cabinet will discuss compensation.
The statement is the latest backtrack by Dr Mapp, who earlier had all but ruled out compensation and failed to apologise personally.
"It is clear that the $2000 was not sufficient and we need to do better for the future 70th commemorations [of other battles during World War II]," he said in Parliament.
"I do apologise to Crete veterans that I did not achieve the level of support that the public and they would reasonably expect."
The Cabinet would discuss compensation, he said. "There is some challenge around retrospectivity."
The Government has made a commitment to making more money available in future to cover the cost of travel for veterans and their supporters.
Veterans Affairs Minister Judith Collins said she would prepare a Cabinet paper on how the Government should honour veterans at coming World War II 70th anniversary commemorations.
"The Cabinet paper will look at how we can help veterans get to the rest of the 70th anniversary commemorations with the support they need - a family member or helper.
"Given that many veterans are in their 90s and not able to undertake extensive overseas travel, the paper will also explore what can be done here in New Zealand to commemorate significant World War II battles."
The paper would go to the Cabinet in September, Ms Collins said.
Next week, the Government will receive a funding application for 40 veterans wanting to go to Green Park, London, for the dedication of the Bomber Command Memorial in 2012.
Membership of the NZ Bomber Command Association is open to all New Zealanders who flew in Bomber Command during the war: about 6000 served, and almost 2000 died.
It is unclear if the trip will come within the scope of the Cabinet paper, but if not, it will be considered on its merits.
- additional reporting NZPA