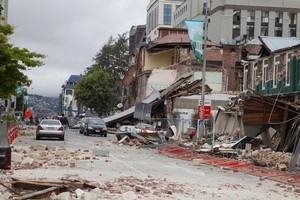 The head of the Canterbury Earthquake Recovery Authority remains confident a section of Cashel Mall will open for Cup and Show Week as intended, despite the demolition process slowing after the June 13 aftershocks.
Under the project Re:Start 29.10.11, it is planned a cordoned-off area of central Christchurch - based around shopping hub Cashel Mall and part of the popular Oxford Terrace hospitality area - will open on October 29.
CERA chief executive Sutton acknowledged work had slowed following the two large aftershocks on June 13 - which caused further damage to many buildings, including the Christchurch Cathedral and Lyttelton's Time Ball station - but the pace of work was picking up.
"We are on track to get Cashel Mall open for Cup and Show Week," he told TV3's Firstline.
Media were last week given their first opportunity to see the central city Red Zone since the June 13 quakes. Herald reporter Jarrod Booker described the pedestrian Cashel Mall as "an uneven strip of mud and puddles of dirty water", and said it was hard to see the mall open in time for Canterbury's anniversary week
"It's a very tall order," Earthquake Recovery Minister Gerry Brownlee said last week.
"I'm hopeful we are going to meet that deadline. We are going to see a lot of different and innovative ways to create retail space."
Mr Sutton said "gutsy targets" had been set by the authority, such as ensuring chemical toilets were no longer in use by the end of August, but was confident these would be met.
Experts from overseas are to arrive to assist with the demolition of the Hotel Grand Chancellor, which will begin in the coming weeks.
A decision is also to be made today on the future of AMI Stadium, which was bady damaged in the February 22 quake.
- NZ Herald staff