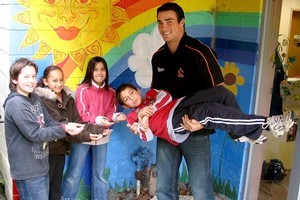 Students have been offered counseling to help them deal with the death of a "truly lovely" schoolmate in Hamilton Hospital overnight.
Shaun Malthus, a 13-year-old Hamilton Boys High School student, was struck down by a car as he crossed Ruakura Rd, near the entrance to Innovation Park, about 8.15am on June 30.
Whanau kept a round-the-clock vigil at his bedside in Waikato Hospital's intensive care unit until his death last night.
Hamilton Boys High School principal Susan Hassall said Malthus was a kind, courteous and hopeful young man.
His fellow students were devastated to lose him and several had already received counseling at school, she said.
She planned to offer a tribute at the next school assembly and was speaking to family about constructing a lasting memorial.
"The death of any student hits a school community hard but losing a Year 9 student hits particularly hard. He's very young. So very young.
"He was quiet and courteous. But very upbeat and just very hopeful."
Malthus was the second Hamilton Boys High School student to die in a road accident this year, Ms Hassall said.
Though she did not believe his death could have been prevented, she would be stressing the importance of road safety to students, she said.
"It's sad. It's really unfortunate. But you couldn't have prevented it. We're grieving for him and we're grieving for the family."
Acting Waikato Road Policing Manager, Senior Sergeant Jeff Penno, described the death as an "absolute tragedy".
"Regardless of culpability this is an absolute tragedy, young man has lost his life and all road deaths are preventable. We need the community to embrace this and say enough is enough."
Mr Penno said police had interviewed the 17-year-old male driver of the car that hit Shaun and he was cooperating with police.
"The matter is still under investigation by the Waikato Serious Crash Unit and this will determine what, if any, charges may result from the incident.
Family spokesperson, aunt Karen Malthus, said the family was deeply saddened by Shaun's death.
"We are grateful for the support we have received from the public in dealing with this matter and would now ask for privacy as we grieve for our loss."
Shaun's death brings the Waikato road toll to 30 compared to 29 for the same period last year.