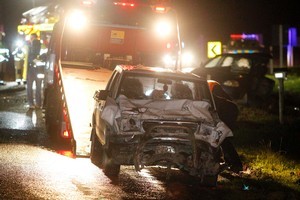 Two young men are dead after a head-on crash near Hamilton this evening.
The crash happened on State Highway 39 near the intersection of Limmer Rd, 15km west of Hamilton, about 6.30pm.
Senior Sergeant Mike Underwood, who had just arrived at the scene, said two young men who were in a south-bound car were killed when they collided head-on with a ute travelling north.
The driver of the ute was not injured.
It appeared the men's car had crossed the centre line when taking a moderate corner and crashed into the oncoming vehicle, Mr Underwood said.
The stretch of road, which had been the site of numerous accidents in the past, was slippery and wet.
The fatal crash brings this year's road toll in the Waikato police district to 29, up from 24 over the same period last year.
The Waikato toll is more than double the next highest number of regional fatalities - 13 in the central North Island police district.
The national road toll before last night's accident was 133 for the year, against 186 for the same period last year.
- NZPA with Anna Leask