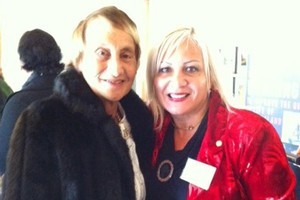 Destiny Church's Hannah Tamaki has effectively been disqualified from the presidency race for the Maori Women's Welfare League after her name was left off voting material.
Mrs Tamaki's derailed candidacy comes after an alleged direct challenge from a MWWL member - Prue Kapua - who argued to the national executive that because Mrs Tamaki's branches were aligned to the church they were unconstitutional.
The league's charter sets out that it is a non-sectarian organisation.
The Herald understands there is also anger among some in the league over Mrs Tamaki's stance on homosexuality. Ms Kapua is in a civil union with Labour MP Louisa Wall.
The league's omission of Mrs Tamaki's name from official voting papers leaves seven candidates.
In a double blow, church members who are also in the MWWL might not be able to vote regardless of Mrs Tamaki's candidacy status.
Yesterday, Mrs Tamaki, the wife of Destiny's Bishop Brian Tamaki, was considering legal options. A letter was sent to the MWWL executive team in Wellington asking for an explanation about the situation by 3pm.
Mrs Tamaki did not explicitly refer to the situation when she tweeted her followers just after 12pm, but said she'd had "a very interesting meeting with my legal team".
Her bid caused an outcry from some league members last month.
Founding member Dame Georgina Kirby said it amounted to a church takeover of the 60-year-old league.
As a result of the challenge, it is understood the MWWL is conducting an audit around the constitutionality of Destiny affiliated branches.
The effect of the challenge stops three branches in Auckland who have 300 financial members voting through the league's proportional system.
None of the three branches received voting papers last week.
Questions are being asked about whether lesbian members really took issue with the church's anti-homosexuality position rather than the constitutionality of the branches.
It was business as usual for Mrs Tamaki yesterday. An afternoon post told supporters of a campaign supper to be held tonight in Hamilton and revealed pictures from presidential breakfasts in Rotorua and Whakatane in the past week.
Promotional material uses the tag line "Power, Purpose, Potential for maori [sic] women says Presidential Candidate Hannah Tamaki."
A media ban by the league's national executive, led by general manager Jacqui Te Kani, is still in force.
VOTING TIME
MWWL presidential candidates members can vote for:
Tiahuia Abraham QSO
Mere Austin MNZM
Jane Du Feu MNZM
Amiria Rereti
Doreen McCorkindale
Wikitoria Michalanney
Katerina O'Brien
The candidate they can't:
Hannah Tamaki