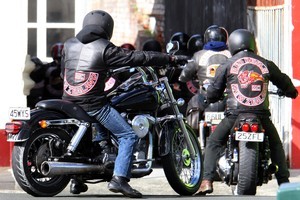 It was meant to be a chance for Hells Angels to celebrate 50 years as a motorcycle gang.
Instead, police say last night's party in Auckland provided police with the perfect opportunity to stop 11 'notorious' criminals from coming to New Zealand, and crack down on gang members for a variety of offences.
The Organised Financial Crime Agency of New Zealand (OFCANZ) says in the week leading up to the bash in Mount Eden's Brentwood Ave, OFCANZ worked with Immigration, Customs and Police to identify and stop overseas gang members getting into New Zealand.
11 were identified and prevented from travelling.
Two were denied visas offshore, seven were offloaded in their home countries and two landed in NZ and refused entry.
Detective Inspector Grant Wormald of OFCANZ says some quite notorious gang members were prevented from setting foot in New Zealand.
"These people are organised criminals, many with long criminal histories relating to drugs and fraud and other serious and violent offending."
"We don't want them here networking and strengthening their ties with their New Zealand counterparts," Mr Wormald said.
Police also say over the weekend they maintained a presence near the gang headquarters.
Although no arrests were made, several infringement notices were written out for driving offences including failing to wear seatbelts, vehicle defects and driving behaviour.

Two people had their licences suspended for demerit point accumulation.
One gang member's motorcycle was seized under warrant for unpaid fines
totalling $3800 and three other motorcycles were written off the road because they were unsafe.
- Herald Online staff