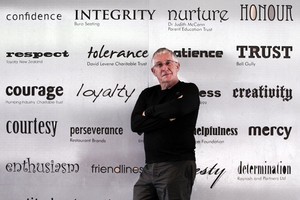 The man set to teach parenting skills to SAS soldiers is preaching tough love to mothers and fathers around the country - especially when it comes to letting their children have money, alcohol and sex.
Giving children and teens too much pocket money "could be a deadly thing", warns conservative parenting guru Ian Grant.
The 72-year-old founded Parents Inc with his wife, Mary, 66.
Their advice is contained in a book due for release in September called Growing Great Families, which follows seven top-selling books on parenting. It is likely to be their last book together as they want to focus on other projects and enjoy their 10 grandchildren.
Grant is negotiating with the NZ Army to do parenting seminars for SAS soldiers, advising the fathers on how to stay close to their children when on combat missions. (The answer? Skype, text, write a diary).
Grant has already met some of the men, saying he expected to encounter "Rambos" but instead found "caring and loving guys".
And while he's giving soft advice to the hard men of the army, Grant is proffering tough love to everyone else.
He advises limiting pocket money to roughly half a child's age. A 16-year-old should get $8 to $10 and have the chance to earn more.
"Do not shower them in money. It could be a deadly thing," says Grant, expressing disbelief at children he had met who got as much as $70 a week.
That money might be used to buy alcohol or drugs, or encourage the children to think cash came easy.
The book says Kiwis should have kids younger to avoid having to go down the heartbreaking path of IVF.
"The sad thing is children have become the final accessory and this puts pressure on the kids to fulfil parents' social aspirations and dreams," says Grant.
Parents should be tough and not "wimps" with their children. They should not be given alcohol too young or given too much cash, and parents should "hold your nerve" when children retaliated.
He gave the example of a 15-year-old asking to drink alcohol at a party.
"Just tell her she's too precious - 'I don't want you to mess up your life'," he says.
When a child misbehaves, he advises threatening them with something that hurt, like taking away technology, pocket money, transport or treats.
"Take the door off its hinges if they slam it, so they can't slam it," Grant says, "and just keep smiling."
Charity's bail-out blues
High-powered families' agency Parents Inc has gone "cap in hand" to mums and dads who have done its courses, asking for a $200,000 bail-out.
The not-for-profit organisation received a $600,000 grant in last month's Budget and is backed by big corporates such as Toyota, Vodafone and SkyCity casino.
But it says it has been hit by the tough economic climate. It has lost paying tenants from its Greenlane HQ and money from big donors like South Canterbury Finance.
Parents Inc's $4 million expenditure in the past year ranged from training its 67 staff to providing free courses to 1000 families and a $65,000 salary and sponsored Toyota Rav4 for founder Ian Grant.
He said that salary was low - equivalent to that of a deputy principal.
This month, Parents Inc sent out 20,000 letters to parents asking for help.